Nominations for the 2020-21 AIDA Awards are now closed.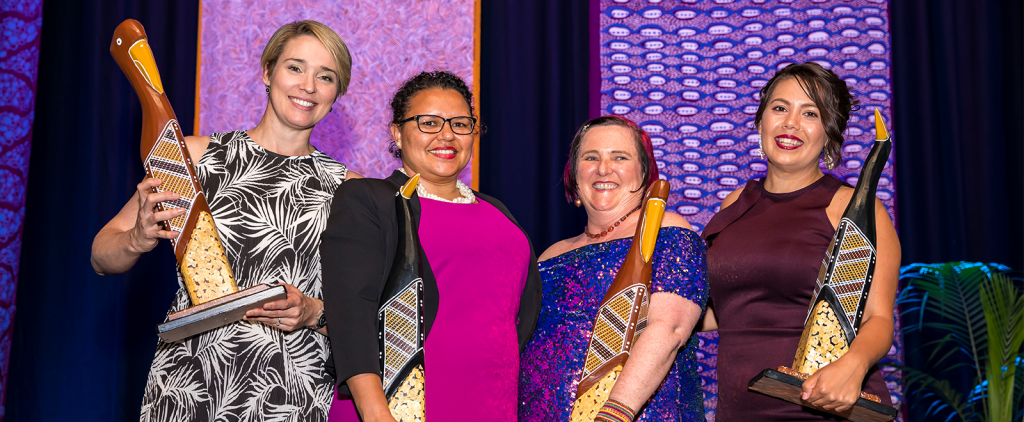 Since 2015, the AIDA Awards have been recognising the contribution our members make to improving health outcomes for Aboriginal and Torres Strait Islander Peoples. There are three award categories for 20-21:
If you know an AIDA member who has contributed to improving the health and life outcomes of Aboriginal and Torres Strait Islander Peoples, please nominate them for an AIDA Award.
Please read and make yourself familiar with the AIDA Awards Framework which contains information about eligibility, nomination criteria, the nomination and judging process and the key dates for the awards.
Winners of each category will be recognised and celebrated for their work, with their peers at an AIDA event (details to be confirmed soon).
2019 AIDA Award recipients
Presented by AIDA Patron Mr Phil Truskett
Indigenous Doctor of the Year
Dr Jaquelyne Hughes
Indigenous Student of the Year
Ms Jean Pepperill
Associate Member of the Year
Dr Erin McMeniman
Associate Member of the Year
Dr Elizabeth Mowatt
2018 AIDA Award recipients
Presented by AIDA Patron Mr Phil Truskett
Indigenous Doctor of the Year
Professor Helen Milroy
Indigenous Student of the Year
Ms Rachel Pugh
Associate Member of the Year
Professor David Paul
2017 AIDA Award recipients
Presented by AIDA Patron Mr Phil Truskett
Indigenous Doctor of the Year
Associate Professor Kelvin Kong
Indigenous Student of the Year
Mr Luke Hamlin
Associate Member of the Year
Dr Annemarie Hennesy
2016 AIDA Award recipients
Presented by AIDA Patron Mr Phil Truskett
Indigenous Doctor of the Year
Dr Bradley Murphy
Indigenous Student of the Year
Mr Ian Lee
Associate Member of the Year
Dr Jenny Reath
2015 AIDA Award recipients
Presented by AIDA Patron Mr Phil Truskett
Indigenous Doctor of the Year – Dr Raymond Gadd
Indigenous Student of the Year – Mr Artiene Tatian
Associate Member of the Year – Dr Gaye Doolan