26 May 2022
Uncategorized
CEO Message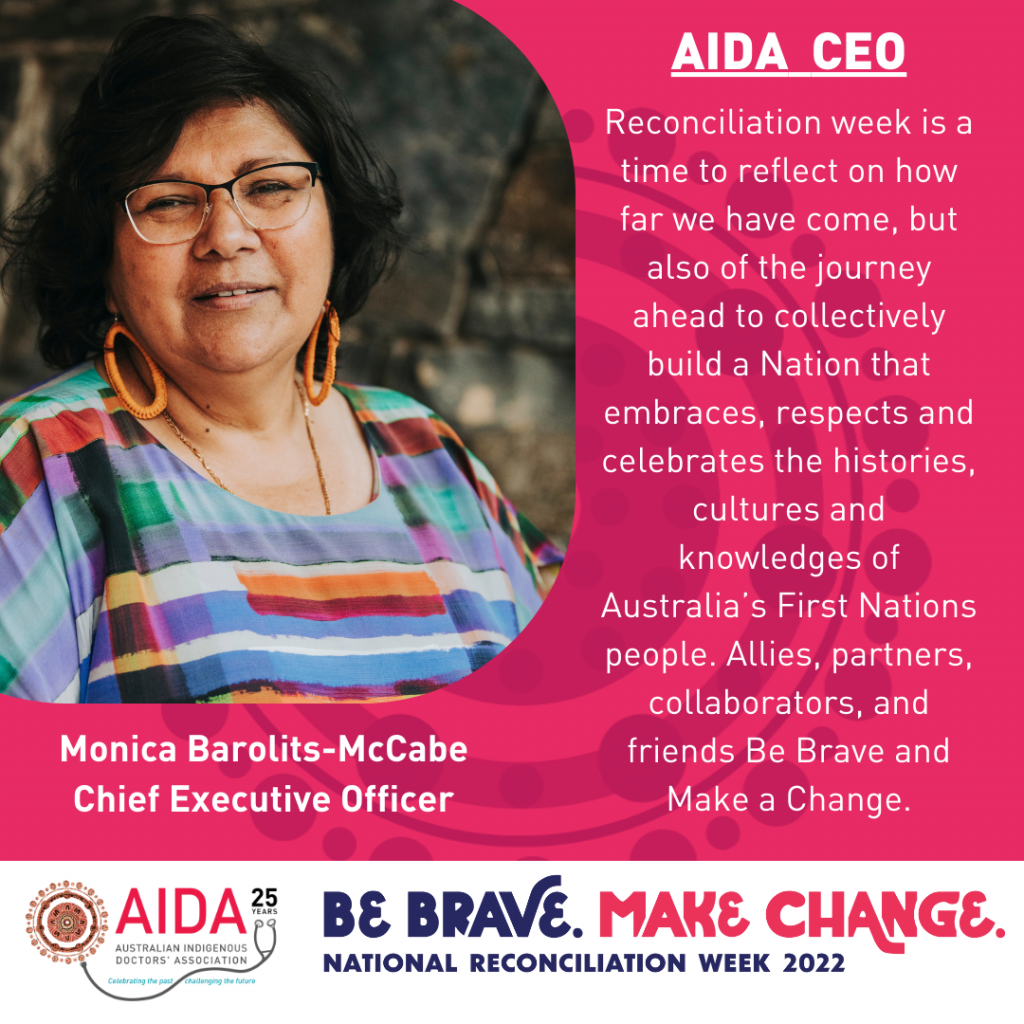 Events and Engagement Team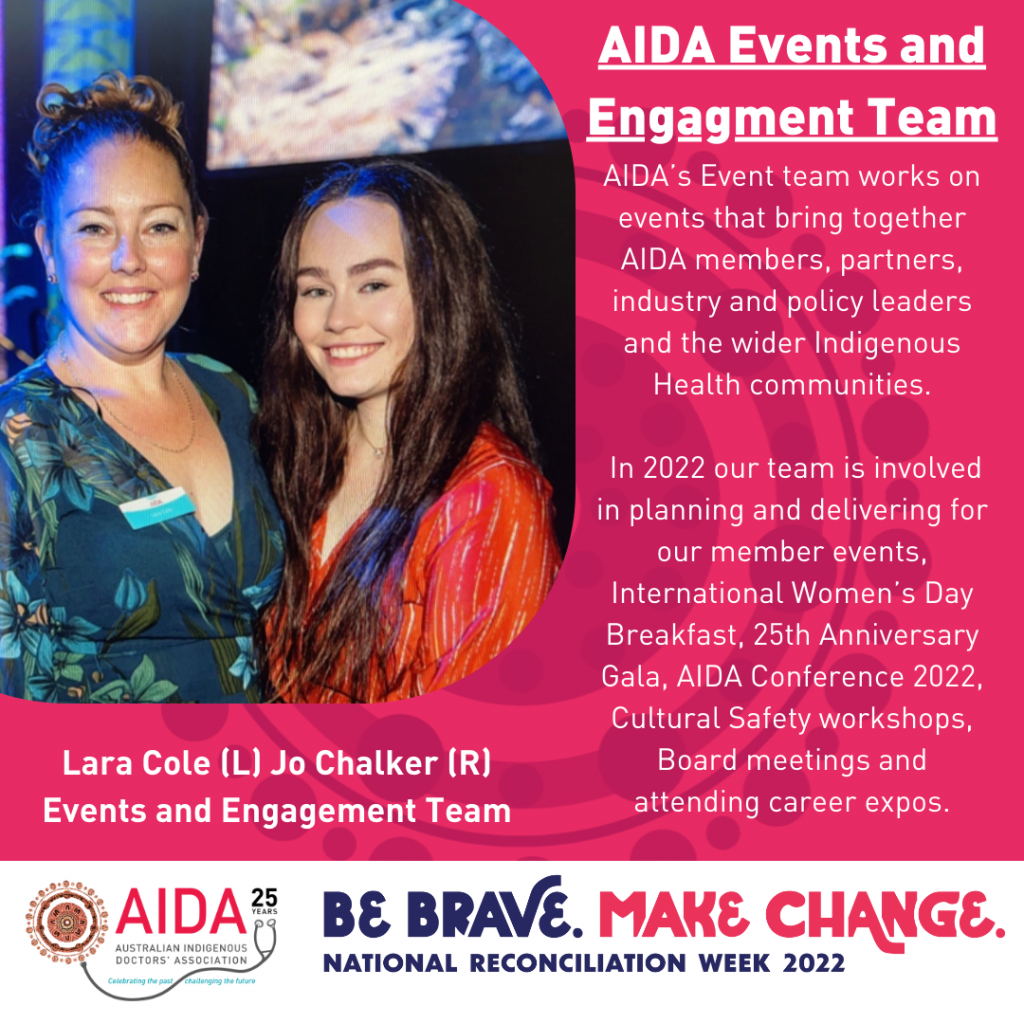 What do we do to "Be Brave. Make Change"
AIDA's events provide a culturally safe space for networking, member and partner engagement.
They offer professional development and provide organic mentoring opportunities. We aim to facilitate discussion on topical issues, allowing our guests to learn and share new ideas, discover the latest innovations, insights and highlight best-practice principles.
Most importantly, they are opportunities to showcase and celebrate the achievements of Australia's Aboriginal and Torres Strait Islander doctors and medical students.
AIDA was conceptualised at a conference on Worimi Land. Holding true to this spirit, the Events team continues to organise opportunities for our members to come together and re-energise spiritually and develop professionally.
Cultural Safety Team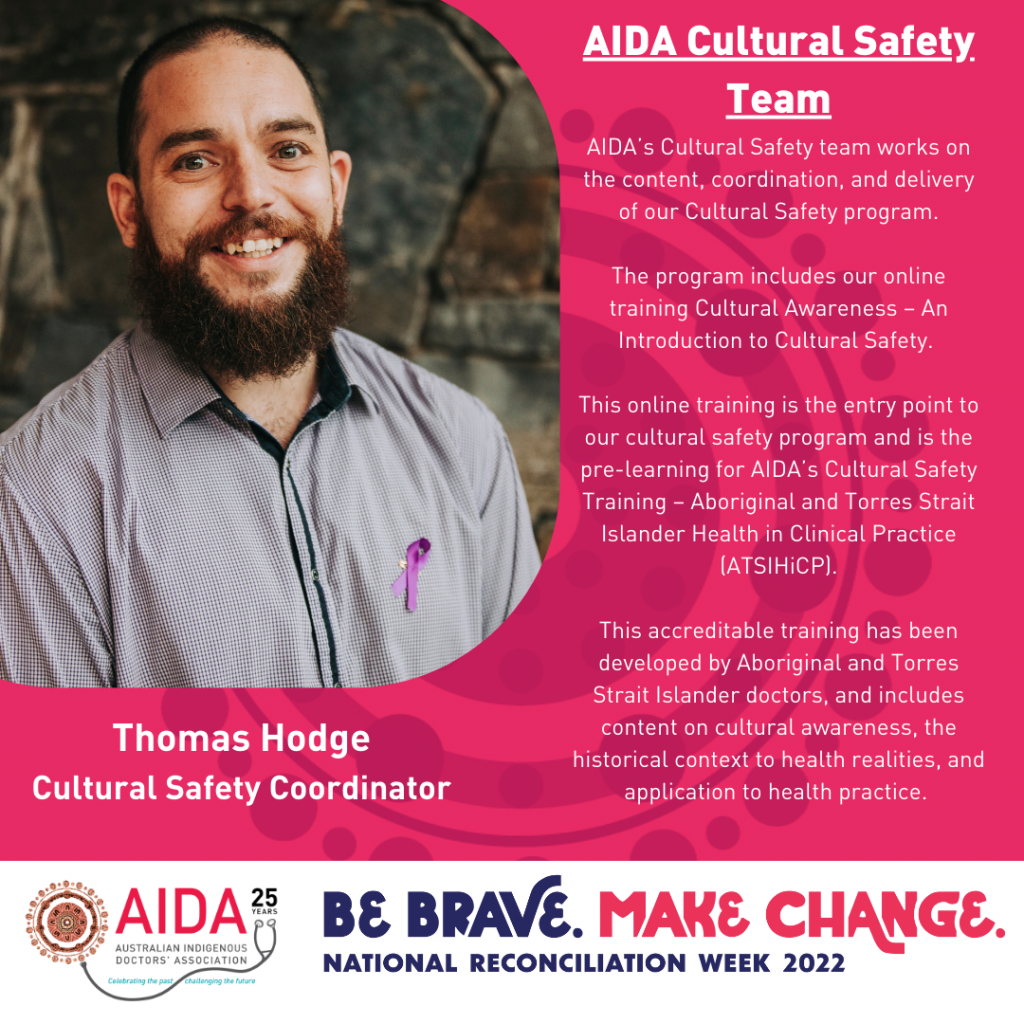 What do we do to "Be Brave. Make Change."
AIDA's cultural safety program was developed to address the ways processes and structures shape and negatively affect Aboriginal and Torres Strait Islander health and speaking on these issues takes a great deal of bravery in any setting.
AIDA is well positioned and engaged with medical colleges, universities, community-controlled health organizations and many other organizations to encourage, support, and make changes throughout the healthcare system with our Cultural Safety Program.
Some of the changes AIDA aims to make through Cultural Safety training Include:
Practical strategies to mitigate barriers and utilise enabling factors at systemic, organisational and practice levels.
Strengthen culturally safe practices to achieve better health outcomes for Aboriginal and Torres Strait Islander Peoples.
Utilise techniques to improve rapport building, engagement, and communication in clinical consultations.
Implement strategies to overcome access barriers at a practice and clinical level.
Integrate Aboriginal and Torres Strait Islander holistic health and cultural safety into everyday clinical practice.
Specialist Trainee Team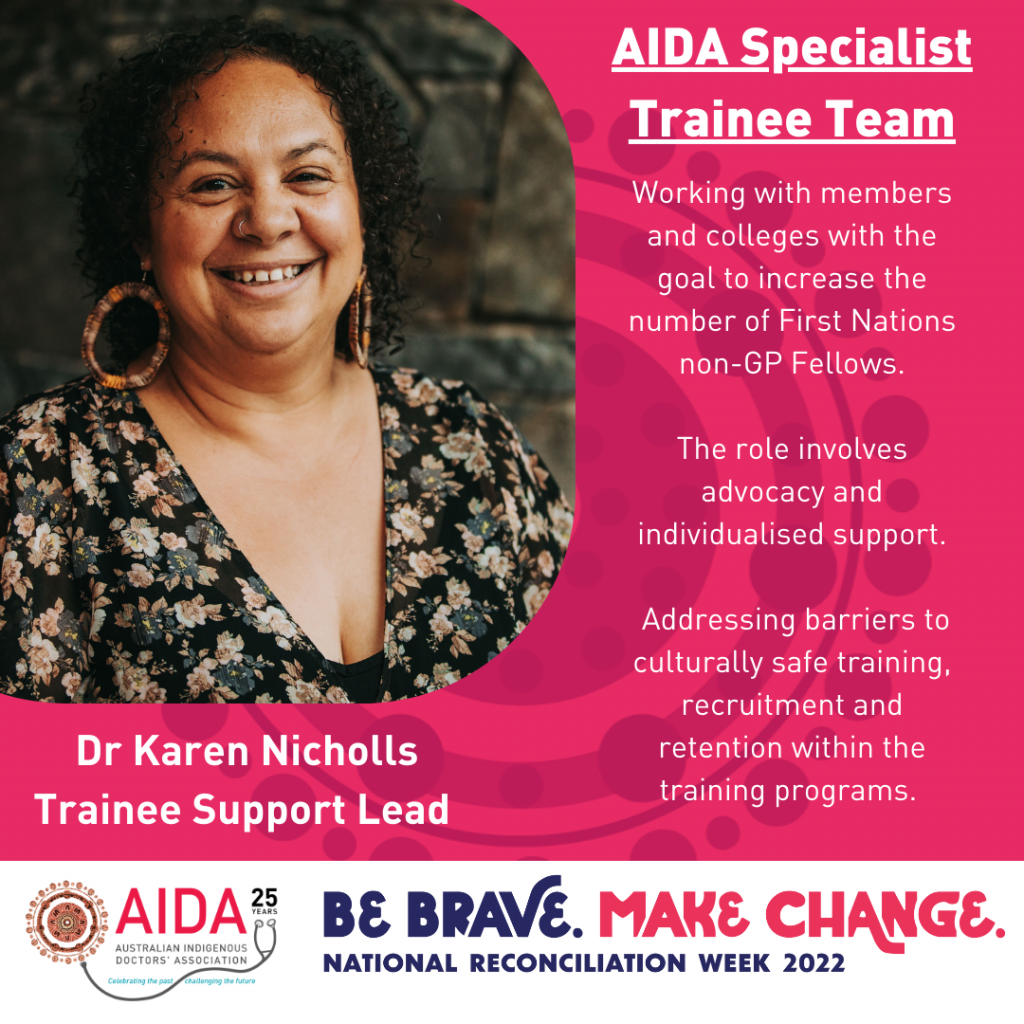 What do we do to "Be Brave . Make Change."

AIDA's Specialist Trainee team under the Non-GP Specialist Trainee Support Program (STSP), was developed to help members and Colleges with the goal to increase the number of First Nations non-GP Fellows and retain strong Aboriginal and Torres Strait Islander trainees.

This innovative program was introduced to provide greater support to Aboriginal and Torres Strait Islander non-GP trainees.

In 2021, only 150 (or 0.19% of medical specialists) identified as Aboriginal and/or Torres Strait Islander, compared to more than 78,000 medical specialists nationally. Aboriginal and Torres Strait Islander doctors face unique challenges which often deter them from successfully graduating. This program aims to address these barriers and engage with stakeholders to provide a consistent pathway through to graduation.

The STSP is the first Indigenous-led initiative established to provide peer and collegiate support to non-GP doctors in training.
Communications Team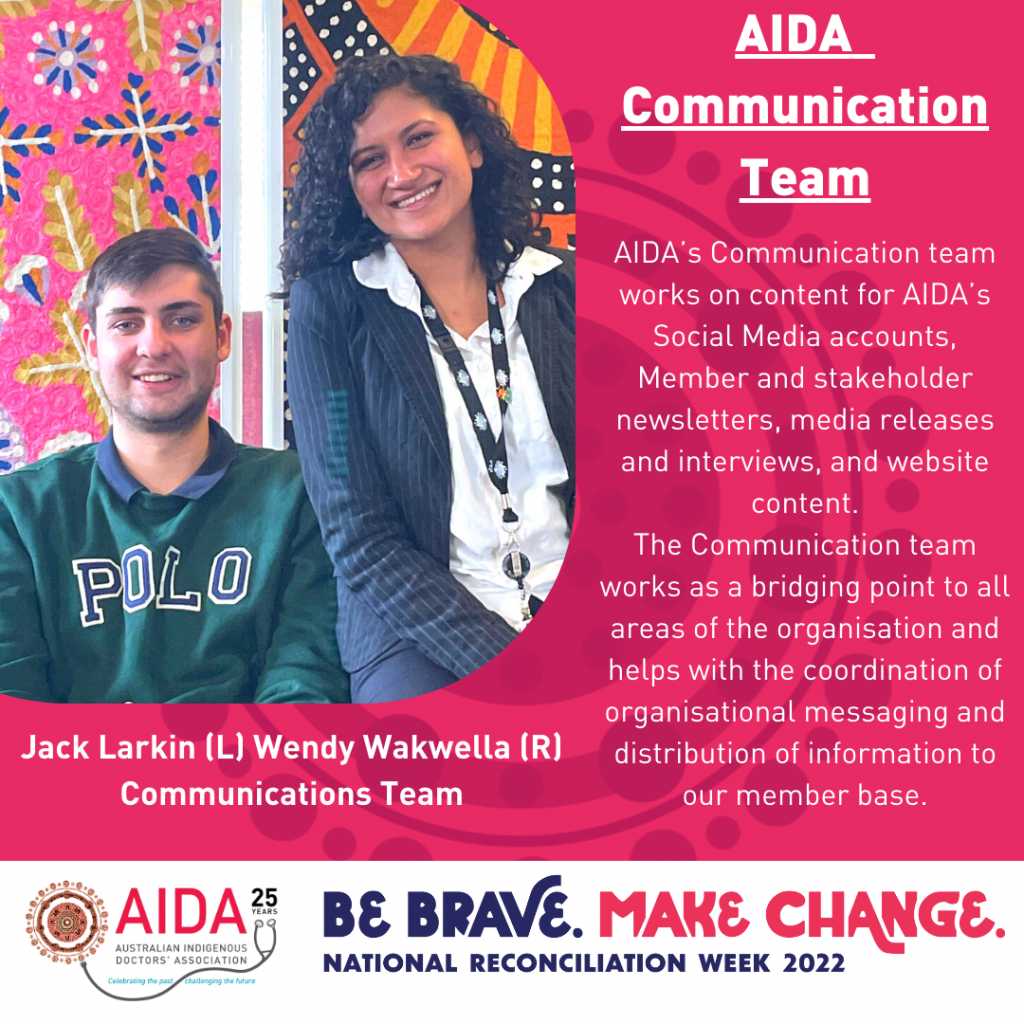 What do we do to "Be Brave. Make Change."
AIDA's communications team uses AIDA's platform to actively campaign for stronger support systems and elimination of barriers for Aboriginal and Torres Strait Islander doctors and medical students. Our members show courage and bravery in their journey into and through medicine every day, and it is an honour and a privilege to be able to amplify their voice through our platforms.
AIDA also takes pride in celebrating all the amazing achievements and journeys into medicine of our amazing members who are at the core of what we do.
During the COVID-19 Pandemic AIDA with the help of IndigenousX ran a campaign using videos of Indigenous Doctors around the country to help encourage Aboriginal and Torres Strait Islanders to get the COVID-19 Vaccine.
The communication team will continue to use AIDA's expansive social media presence to advertise its events, and scholarship opportunities as well as championing Indigenous rights and issues. Change takes place one letter, one word, one sentence, or one action at a time. And we will be here to champion that change in every way we can.
Membership Team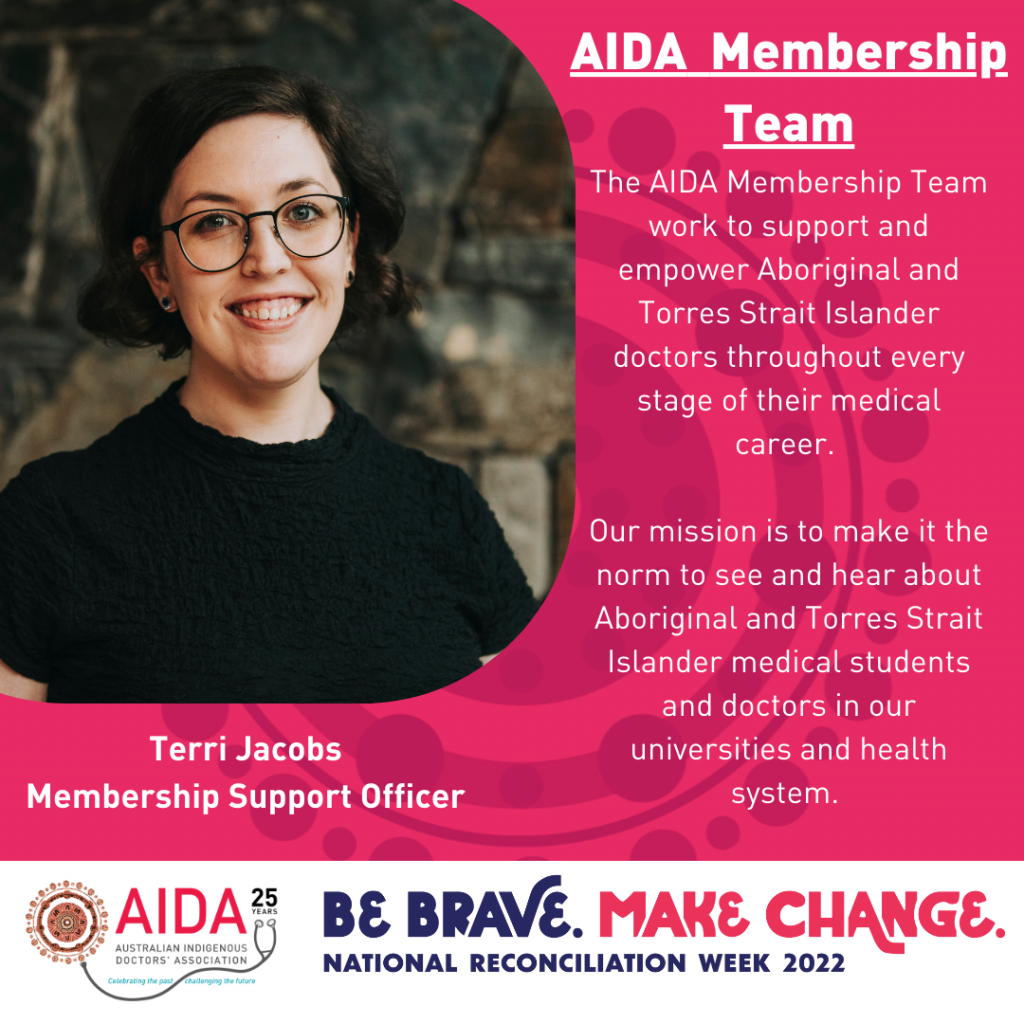 What do we do to "Be Brave. Make Change"
It takes a lot of bravery to stand up to a system that is not equitable – a situation our students and doctors face every day.
The Membership teamwork toward positive change by advocating for students and doctors when they need support navigating systems and situations that are not culturally safe, promoting growth and education through frank discussions.
Policy Team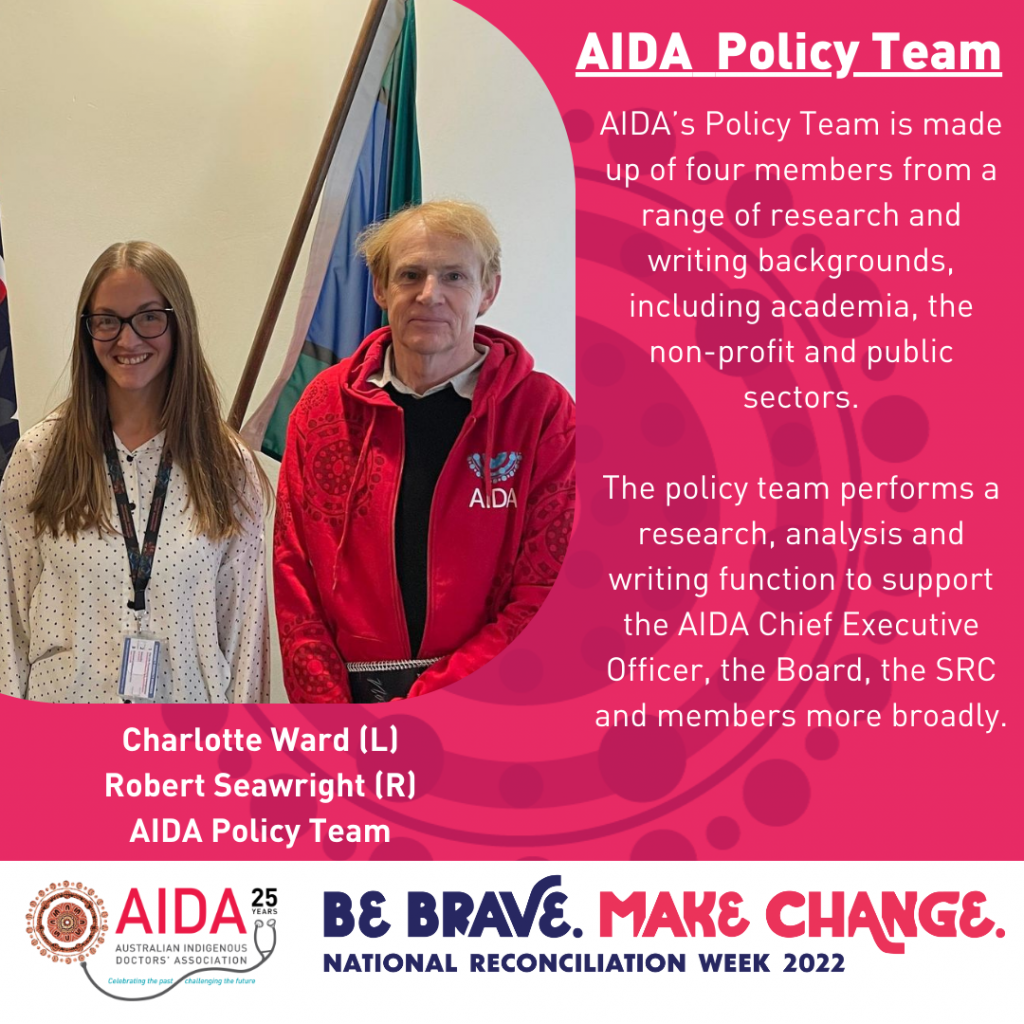 What do we do to "Be Brave. Make Change"
AIDA as a national peak organisation must navigate the national policy space to get the best outcomes for our doctors and our communities. Some of our levers include the National Agreement on Closing the Gap, National Health Leadership Forum and various campaigns such as Raise the Age and Partnership for Justice in Health.
AIDA is also represented on nearly fifty medical, health and health workforce committees nationally and internationally and collaborates with a range of stakeholders and affiliated organisations.
One cannot underscore the importance of "having a seat at the table" and being in a position to advocate for Aboriginal and Torres Strait Islander students and doctors – and for Aboriginal and Torres Strait Islander health more broadly because for too long these interests have been ignored.
We recognize the need to support emerging doctors in participating on Boards, Committees and Decision-making groups so we can spread the load more widely and increase their representation and self-determination.
In order for these individuals to be in a position to contribute effectively in these fora, they may require support from the policy team in the form of research, briefings, policy analysis, speeches, and presentations.
Conversely when the policy team is undertaking research and/or preparing a response to a particular issue it may draw on the expertise of senior Aboriginal and Torres Strait Islander clinicians and leaders. This ensures we embed Aboriginal solutions for Aboriginal people into advice for governments, medical bodies and other non-government organisations.
In addition to the above the policy team also prepares:
Policy position statements and policy papers (this year we are working on the following topics: Housing, Incarceration, Climate Change, and recruitment and retention of medical students) ; and
Policy submissions (see the AIDA website for these)